Before I crack on, did you know that I'm holding an online class about magic circles? It's kind of like this blog post but with a whole lot more information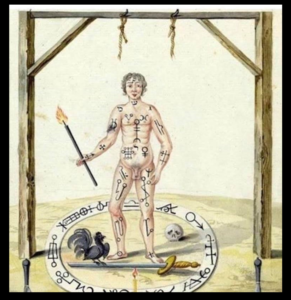 and discussion. So if you've got an hour or so (it's probably going to be between 1-2 hours) on 9/15 at around 3pm, join me for a crazed exploration of the history, purpose, and ways in which magic circles can be tweaked. Can't make it? The class will be recorded so participants can listen later!
I'm also producing a bunch of content on Anglo-Saxon magico-medical charms and how the magical tech can be deconstructed and re-purposed over here too!
Now, on with the show!
Do You Have a Flag/Lineage?
It began like so many conversations on magical Facebook groups – admin posts link, person replies, and another person decides that it's a great time to start something.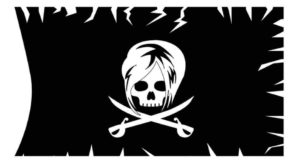 "Oldest" story on the 'Book, amirite?
But it was the input of a third person that I'm going to focus on here. Because it's something that I've seen again and again in Pagan and magical spaces since moving to the US.
"What is your lineage?"
Whenever most people ask this question I see that Eddie Izzard sketch in my head – "Do you have a flag?"
But Eddie Izzard sketches aside, the matter of lineage is a complex one in modern Pagan and magical traditions. For many, the idea of belonging to a lineage conveys a certain legitimacy (regardless of the actual abilities of the practitioner). However, depending on which tradition you practice, the existence of lineage in the sense that it is typically understood today may be completely unnecessary.
Lineaged and Unlineaged Traditions
Now don't get me wrong. I'm not arguing that all lineages are bullshit. But lineages are far from universal to every tradition.
Take early modern English witchcraft, for example. Most of the witches in the accounts became witches because they had an encounter with an otherworldly spirit (either a fairy or elf). This encounter was usually by chance,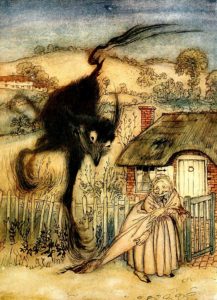 and could either be with the familiar spirit itself, or with fairy royalty, who then gift the witch a fairy familiar if shown proper respect. In this worldview, it was not lineage, but the familiar (which could also be a member of the dead), that made the witch.
Having said that though, there are accounts of these otherworldly familiars being passed on from witch to witch (usually family members), and that could be considered to be a lineage of sorts. However, the otherworldly figure was still probably the king (or witch!) maker in this equation as they (presumably) had to agree to this transfer. Despite many modern ideas about the Othercrowd, they have never been at our beck and call. It simply does not follow that a being who is the source of knowledge and power for a witch would not be in charge. (Wilby 60)
And sure, we could argue that these ideas were the fevered product of tortured imaginations. But as I've previously discussed there is a continuity to this particular shape. Alaric Hall, for example, traces the pattern of witches working with elves back to Old English sources. I would even argue that given that one of the Old English cognates of Seiðr was 'ælfsīden' (as well as for a bunch of other reasons), elves were an integral part of Seiðr, and that that shape continued into the early modern period.
Kinda makes you look at that story of Freyja as the priestess of dead-Freyr's mound cult in the Ynglinga saga a little differently, right? If ever there was an Eliade-esque "paradigmatic fix point" for this particular paradigm, that would likely be it.
But none of that takes from the fact that there are lineaged traditions in the world. Moreover, there are a lot of benefits (not to mention safety nets) from being a part of a lineaged tradition that has its shit together.
Notice that caveat there?
Because let's not try to pretend here – some lineaged traditions are clusterfucks that just happened to have been started because (often) one person didn't like something long-established about an actual lineage and decided to set up their own tree house. That's not to say that all breakaway lineaged traditions are shit though. Plenty of breakaway lineages turn into actual lineages, but some…yeah.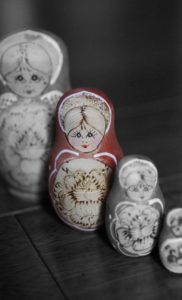 Legitimate lineages (however they're judged) can be excellent for a number of reasons though. Because not only do you have access to a far more systematic way of learning, but you also have the safety nets of more experienced elders as well as the lineage itself. If you are interested in a tradition that has lineages then you should absolutely do the work and enter in the correct way. In some cases, it can actually be dangerous to you if you don't.
For those of you who are trying to live that early modern life though, keep flashing your sweet fairy/elf bait asses (and good luck)!
Okay, I was joking about the 'fairy bait' bit.
(Maybe. Just try to be the right kind of bait, okay?)
Lineage and College Degrees
In some ways, the question "What is your lineage?" (especially in groups of mixed practitioners who come from both lineaged and non-lineaged traditions) feels symptomatic of a far greater social issue in the US. Now I'm not going to get all Mike Rowe on you all here, but I feel like the obsession over college degrees for any old crap has kind of carried over into how we perceive magical capacity in others too.
It was one of the thing that first struck me when I moved to my current area. Where I'd lived before didn't really have much of a magical community. But where I am now is like a fucking soap opera (possibly addictive horror series) with that shit.
When I first moved here, I was excited to come across so many other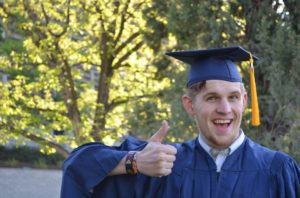 practitioners. But soon, I was relegated to some kind of 'discard pile' when it became clear that I didn't have any lineage they cared about. Nor was I interested in learning from the main teachers in the area (a seemingly necessary 'qualification' if one is to be taken seriously regardless of actual ability). They just weren't selling what I wanted, and frankly some of it felt 'icky' and even corrupted to me.
There's a whole lot more I could say here, but I'm not going to. I think that was enough to illustrate my point. Despite my lack of lineage or connection to local big names though, I've somehow become the person people come to when things aren't just getting bad, but really bad.
I've found myself thinking about this curious situation quite a lot over the years too. I've found so many talented people in my area who don't have the qualifications people are looking for, and who get completely overlooked if they try to sell their services despite their talent. For example, I have a friend who is ridiculously talented – especially with the dead – and she has been "negged" by people who just happen to be better known or "qualified". And part of it reminds me of how some jobs now require a bachelor's degree despite never needing them before.
But part of it is also undoubtedly down to competition and the psychology of buying services. Services are always a greater risk to a customer than products. It's far easier to see the quality of a product than a service before purchase. So we've evolved ways of making the customer feel better – more certain – when buying a service. (Incidentally, this is where "the customer is always right" comes from.) This is especially necessary for those who sell "less tangible" services, and especially those that go against the consensus (such as spell work, healing work, or exorcisms).
See what I'm saying?
In these cases, belonging to a lineage or having qualifications from the "right" teacher can give a customer reassurance (I say "right" here because I think the very concept of "right teacher", especially in the context of a whole geographical area, is always debatable).
A Big Dog Party
Now I'm not saying that lineage is bad here, because it can be an overwhelmingly positive thing in a practitioner's life. And before anyone says "oh she's just bitter because she doesn't have a lineage", I do. (No I'm not telling any of you what it is because frankly it's no one's business but my own and that of those in my lineage).
What I'm saying here is that I can see both sides of the coin.
I've been that non-lineaged witch who gained a familiar through a chance encounter, and I'm now in a lineage and kicking names and taking ass there too (hopefully – I just wanted a chance to use that quote).
All I'm saying is that there should be space for both.
We're a modern movement, but we're massively diverse. Some of our traditions are lineaged and some not, and we need to respect those differences. Because at the end of the day, it's far more important that we get off the fucking sofa and actually do.
(Just don't do lineaged stuff if you're not in the lineage).
And yes, that final subheading was from Dr Seuss 'Go, Dog. Go!'
References
Hall, Alaric – Elves in Anglo-Saxon England
Wilby, Emma – Cunning Folk and Familiar Spirits