So there I was, standing on a little finger of land between two streams with my jacked-up Götavi grid drop-cloth. I was on my magical experiment bullshit again up a mountain in WV, perfumed with eau de DEET and wishing it wasn't so fucking humid.
Crunch time had come; it was time to test my working theory. And come Hel or high water, I was going to test it—sweat patches and all!
(Oh the glamour!)
But wait, I'm getting ahead of myself here. Allow me, dear reader, to wind things back a little.
The Story So Far
This series began as a single post that was supposed to stand alone. But the more I wrote, the clearer it became that I had too much to say on this topic to fit in a single post. Eventually (and much like my antiperspirant in WV), I had to concede to a greater force, and thus this series was born.
If this post is the first you've seen of this series, I encourage you to go back and read the rest in order. There have been five posts so far. Five posts filled with research, musings, and discussion that you won't want to miss out on going forward. It's all necessary context for what comes next. I've even linked them below to save you the trouble of hunting them down.
Why Is Life So Busy?
It's been a while since the last installment and you may have been wondering where I was. Well, life got kind of exciting! I got jumped by a bunch of deadlines and facilitated a week-long devotional magical practice for the Cult of the Spinning Goddess group. I also held some community-building events called Spin 'n' Witches, gave a class, and kicked off a podcast with Morgan Daimler. In the middle of all of that, I've also been working on several books, learning Japanese with my kid, and studying Welsh (as well as doing all the usual life-y stuff).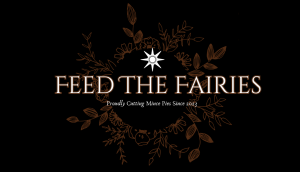 And that's even without mentioning my personal magical practices (both the daily and experimental). For me, there are no words on the screen without the dirty boots, sweat patches, and magical adventures. As weird as it may sound, this kind of work is also really whole-making for me, a key part of my wellness. It's a good portion of the roots that help the tree that is me to grow.
In one way or another, practice forms a large part of the foundation for pretty much everything I produce. And I will absolutely move some projects to the back burner if it means reclaiming some time for the work that makes my souls sing. Which is what happened to these blog posts for a while, and I'm never going to apologize for that.
But anyway, as Machine Gun Kelly and/or Corpse Husband say/s in their joint masterpiece, Daywalker: "I came back."
From Books To Boondocks
When I last left you, I'd just finished talking about the research and planning phases of magical experimentation. In this post, I'm going to talk about that first experiment and how it all shook out. This is where the gnosis is really going to start to come in. If that isn't your thing or reading other people's gnosis makes you rage, then I advise you to hit the back-button.
Don't say I didn't warn you.
For those of you who stick around, I hope these posts serve to illustrate how wonderful it can be when research and gnosis meet. Because frankly, it's amazing and I hope some of you feel inspired to go make your own magical adventures.
Before we go any further though, did you know that the word "boondock" comes from the Tagalog word bundók, meaning "mountain"? If I ever get to name a mountain, I'm calling it "Bundók-Pendle Mountain" so it means "Mountain, Hill, Hill, Mountain." You know, as you do.
Prologue To An Experiment
So anyway, I initially began researching the grid in 2019. However as it turns out, nothing wrecks plans for magical mischief and mayhem like a global pandemic. But by the time May 2021 rolled around, things seemed to be getting back on track thanks to the advent of the first COVID vaccine. So I booked a cabin up a mountain in West Virginia with a couple of friends. We were going to hang out, do the experiment, then hang out some more.
When it came to the experiment though, my friends realized they weren't actually all that comfortable with active participation. One was concerned about the possibility of adverse effects on their health issues, and the other just didn't want to do something with such a high degree of uncertainty attached.
These were both sensible concerns. Some forms of magic really aren't good to participate in if you're already sick. And some people have vulnerable folks in their care to think of too. So while I would have loved for them to have also taken part, I'm also really glad they didn't. When you're attempting to work with historical magic in this way, you need to know and be honest about your limits. And I'd much rather my friends tell me "Hey, this isn't for me," than participate and have something potentially bad happen to them.
Instead, my friends acted as observers, which meant my experiment also had the benefit of an outside perspective as well.
And that was one hell of a silver lining.
Back To The Experiment
Anyway, back to that little finger of land between two streams (and those sweat patches).
Before setting up, I made offerings to the local spirits and explained what I was going to do. The mountain was active; I'd been catching glimpses of the local beings since I'd arrived. It would have been rude to not ask.
There was a sense of acceptance toward my request, but also the feeling that it was only good until nightfall, and so I proceeded. Despite my earlier plans to set up the grid after circumambulating, I quickly realized I wouldn't be able to see where I'd walked without first setting up the grid. The ground was too uniform to discern marker points. So I opened the grid and set up posts at the north-northeast edge.
From that point on, the set-up went pretty much as planned. I circumambulated the space counterclockwise and made an offering of wine to Hel, asking her to allow temporary passage for some from her realm. Then I settled at the southwest edge of the grid.
According to my notes, I heard a male voice while circumambulating but couldn't make out what he was saying so began to sing the dirge. Whenever I sing this dirge in ritual, I do so in a light trance in order to visualize/see the journey between the realms. This time when I peered at the road, I saw a blonde-haired man dressed in a white tunic.
A suspiciously shining man, as it happened.
As I finished the song, I heard what sounded like geese. And when I checked doorposts to the north of the grid, to my satisfaction, the space between the posts appeared "pixelated."
There was a cool breeze like wove its way like a ribbon through the trees and the skies above grumbled, three thunderous complaints.
"Yes!" I remember thinking to myself. "This is working just like I thought it would!"
The Curveball (Because What's An Experiment Without One?)
But that's when the shift happened and my working theory went down like Das Boot. I'd originally theorized that the grid worked like other intermediary spaces I'd worked with like as crossroads effigies and doorposts. However, the shift that had taken place was more like what I'd experienced in my mound sitting experiments instead. When I'd sang the dead through doorposts or crossroads effigies in the past, I'd felt them enter into the space. Usually, their entrance came with a cool breeze that flowed from whichever medium they'd passed through. But most importantly, all of this would take place within an intermediary space rooted in this Middle Earth.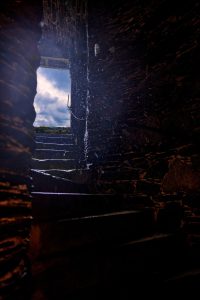 My experience with mounds though, is that the space shifts so that it's no longer rooted in Middle Earth. It reminds me of the difference between being inside a different nation's embassy while still within your own country and in your nation's embassy while within another country.
Recognizing that feeling from those experiments with mound sitting, I moved onto the cloth, my ears filled with a buzzing that sounded like white noise. The cloth felt cool to the touch, and I had the feeling that someone was on their way.
I was both shocked and delighted by the discovery.
Unfortunately though, that thunder had only heralded a coming storm. I wasn't able to spend as much time feeling out my discovery as I would have liked. So I began the process of wrapping things up. I sang the dead back and made offerings of gratitude to Hel. Then I closed down the doorposts and grid, before circumambulating clockwise to return the space back to how it was before.
(Or so I thought.)
The Experiment: Observer Perspective
From talking to my two wonderful observers, I learned that during the circumambulation they'd seen the leaves to the north of me appear to "twitch." From their perspective, it appeared as though whoever was making the leaves twitch was moving toward me.
One observer seems to have seen the same ribbon of wind I'd seen, and described it as coming from the east, before veering to the north, west, and south to wrap around the space. What's especially interesting to me is that this ribbon of wind seems to have moved counterclockwise as I had during the circumambulation.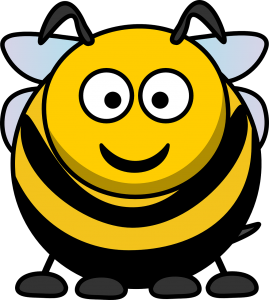 The next main observation was that as I was getting into the rite, a big bee appeared in front of the door to the covered porch they were observing from. Apparently, this bee seemed to be trying to get in and was loud enough to drown out my voice. They (as in the bee) went on their merry way again once the rite had ended.
The Aftermath I
As I mentioned before, I only had the benefit of observers because my friends hadn't felt comfortable with active participation. Again, I'm going to reiterate the fact that you really don't know what's going to happen when creating magical experiments based on historical sources, places, or objects. And this is also true for the aftermath.
The first thing I noticed in the aftermath was that I kept seeing the blonde man in the white tunic in the land outside. There was something very elven about him, but his presence confused me at that time given my location. (Now I'm a few more experiments in with the grid,  his presence makes total sense.)
The next thing I noticed was that the cloth itself had a certain energy to it, and was still chill to the touch. The lights in the cabin dimmed as I brought it in, and one of my friends expressed the concern that it might not be safe to drive with in the car. Agreeing with her, I worked up a quick and dirty chaos magic sigil for containment on a plastic bag big enough to hold the cloth and stuffed it in.
The room visibly brightened.
Once that was taken care of, I made sure to purify myself as I always do after clarting around/potentially clarting around with the dead and settled in for the night.
The Aftermath II
The afternoon gave way to the evening and eventually night. We ate dinner together and got comfy in the lounge to hang out and shoot the shit. After a while though, we began to notice that there were creaking noises coming from an empty wooden chair in the lounge area. It sounded exactly like the kind of creaking older chairs make when someone moves, shifting their weight. Curious, I put my hand out to feel the space and felt a cool presence there.
We had an unseen guest.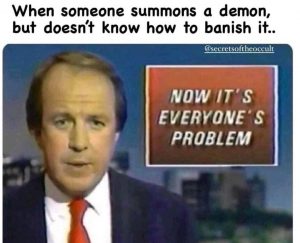 He (because he felt like a "he") would remain with us for the rest of the evening and into the next morning.
When something like that happens, I generally find that you have a few options. You can ignore them and hope they don't cause trouble. Another option is to kick them out. But my preferred option (at least in this case) was to offer him hospitality in the form of a cup of mead in exchange for him being a good guest. There can be a level of protection in the host-guest relationship, and when it goes right, everyone leaves happy.
And he was a good guest, though he would show his displeasure by creaking his chair and flickering the lights whenever we talked about other ghosts who were assholes while trading stories. Whenever this happened, we'd reassure him we didn't mean him and he'd calm down again.
It was a real "not all ghosts" moment.
After the After-Aftermath
So that was the first experiment with the grid. Looking back, there were a lot of mistakes and my working theory was just plain wrong. However, this is all par for the course with this kind of magical experimentation. If that's not something you can handle—that uncertainty—then I recommend you steer clear of this work. You need to be able to think on your feet and McGyver solutions relatively quickly. And I'm not saying that to be an elitist. It's just that there's so much you can't know or plan for as the first human (often) to work with a space/object/kind of magic in a thousand-or-so years.
But that uncertainty and those first experiment fuck-ups is where the next step comes in: evaluation and optimization. And that is what I'm going to talk about in the next post in this series.
Be well.