Dream Initiation – Preface
When I wrote this, I did so to get it out of my head. To write, for me, is to reify and process, and I very much felt the need to do this. Long time readers of this blog will know that I have been encountering the dead since I was a child, and that it is something that I have often struggled with over the years. In many ways, last year marked a watershed of sorts for me in that I formally committed to working with the dead. I began a lot of deep ancestor work within my own lineages, and found my life and practices changing quite dramatically.
The experience that I write about here, I believe to have been one of the initiations of that work. That it took place in dream is still strange to me despite my deeply held beliefs on the importance of dream and its scope for interaction with the dead and Other. However, I find myself very much changed by the experience, and am finding myself doing things now that I could not do before. There will probably be quite a few blogs about my work with the battlefield dead. It is the work of my heart, and I have only just begun.
An Account of Dream Initiation
I enter the room nervously. I had been told nothing of what was to come except for that I would undergo an initiation of sorts. The room is hazy with incense – a pungent scent I struggle to identify – and candles flow as a wave over every available surface. A young man I think I recognize leads me to the center of the room, and the priest begins her invocations. On the floor, I notice a large black sheet.
For a moment I panic, and hope that I do not misspeak. I pray to my gods that any errors be forgiven, and mentally prepare myself for any invocations that I must also give.
But there are none.
There is only the black sheet on the floor, and the young man beckoning me to lie down upon its surface.
I soon notice that half the sheet is gathered at the bottom, and when I lie down, it is pulled up to cover me; it covers all parts of me.
"You need to journey now. You need to let it take you where you must go."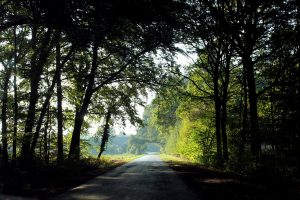 And I am confused, for I am already in dream. But I school myself quickly, and begin my usual processes for entering trance.
For what seems like the longest time, nothing happens. But then, I realize I'm moving; a gentle rocking motion carries me forth. Soon I regain my eyes and notice a roughly woven cloth upon my face. I can see through the holes to the sky above, this is not the cloth from the ritual room floor. Above me, trees curve over the path to form an archway, and I try to move but cannot. I am bound but not by ropes, conveyed forth by unseen hands.
The thought soon comes to me that I'm dead, and travel a corpse path, and for the longest time I abide in this knowledge. What am I to learn here? How long will this go on for? What about the room and the ritual?
The Inevitable Path
I have so many questions, and little patience. I work to exit trance, and find myself rolling out from under the sheet in the ritual room. The priest is now gone and only the candles and the young man remain. I stagger around without sense and understand that unless I finish what was begun, that I would not return whole. So I reenter the now-red-sheet and hunker down once more, returning to the endless plod of the corpse-road.
At some point I decide that I'm thinking too hard, that I'm too agitated for one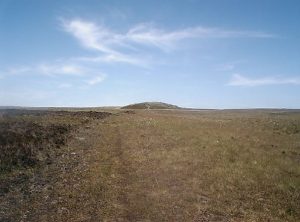 who is already dead, and so I let go, and that's when I find myself within the mound.
I sit up to find myself surrounded by the dead; dead of many different ages, some appearing bigger, and others appearing smaller. The shroud loosens and I sit with corpse-pale arms and hear their words.
They have much to tell me about how they wish to be worshipped, and the kinds of things they wish me to do. They also gift me something too. I can feel it within me, intangible and indescribable. Like something returned, it feels familiar and right. Then they release me from the mound, the door opening to bright sunlight.
As the sun touches my skin, it lives again. I live again. I step out into light that's far too bright for my eyes, and into the path of the one I know as Gwyn. We walk back together along the corpse way, and he talks to me of owls and pathways down. The road does not seem so long on the way back, but it was never really about time or distance in the first place. I know that now.
I return to my dream once more, to the ritual room where the young man waits. He'd been waiting the whole time, he says. I'd been gone longer than was normal, and he wanted to make sure I was alright. Three and a half hours was quite a while, and it was kind of his job. I stand up and this time I'm clear. There's no staggering and I feel whole. I leave the room and find myself at a party for a while, watching people as they perform for the dead they have lost. Their songs are their offerings, their dances are prayers, and it makes their hearts shine.
The heart is the key to this kind of work.
Eventually it's time to go. My husband and child await, and I'm suddenly aware that I have new clothes that I must pick up. They're green, and were also once lost but now returned. I put them on and wake up with a scream.
A Rough Awakening
My body hurts now, my trance had been deep. My shoulder is dislocated, and it takes me three days to fully put it back in. I should probably feel angry or upset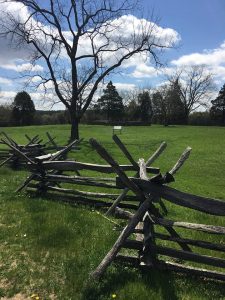 about that but I don't.
If anything, I just thole. It's a small matter next to the monumental change that took place within. I cannot yet name what was given that night in the mound. Yet weeks later, when I step out onto one of the battlefields of Manassas and walk towards the Dead with my equally touched companions, I feel it as keenly as I feel my limbs.
The Dead surround me here too, but this time, it's myself and my companions who guide the way along the corpse path for now.