As far as cleansing and purifying herbs go, I've never really liked white sage (despite its many recommendations). It does the job of course (as a good many things do), but it's never been a herb I've felt particularly connected to or happy to work with.
And this isn't an issue of one Heathen taking umbrage with smoke fumigation or smoke cleansing practices either. After all, I can point to Bald's Leechbook III in which smoke fumigation, or 'recelsian' is a recommended treatment for various afflictions (of an arguably magical nature). I will discuss the use of smoke cleansing, suitable herbs, and preparation in these older texts in a follow-on post that I'll link below.
No, my problems with white sage are far more complex than that.
Three Problems with White Sage and Smudging
1. Overharvesting and Exploitation
The first, and most obvious issue with the use of White Sage (and Palo Santo too, if we're going there), is overharvesting.  I mean, those sage bundles that companies like Urban Outfitters, Amazon, and Walmart are selling have to come from somewhere. And sure, a lot of companies (both large and small) promise ethical harvesting practices. But in reality, that's all too often not the case. I encourage you to read more here about the issues surrounding the harvesting of white sage and some of the unethical business practices involved.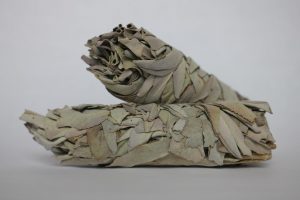 While we're here, spiritual consumerism is threatening Palo Santo as well.
2. The Problem with Using the Term, "Smudge" Outside of an Indigenous Context
The second issue regards terminology. Now, this wasn't something I knew about when I first wrote this post. After all, everyone was calling the act of smoke cleansing, "smudging." So, the original version of this post did use the word "smudge." That was almost eight years ago, and I've learned a lot since then.
One of the things I've learned is that people share this post.  It's a post that seems to get shared by people trying to convince non-indigenous practitioners to avoid white sage and Palo Santo. As someone with even a modest platform, I feel a responsibility here. I wanted this post, the post people know and remember to share, to be as accurate as I could make it with the knowledge I have.  And so because of this, I chose to edit this one instead of writing new.  I just wanted to acknowledge that the previous version of this post did include the use of the word "smudge" for smoke cleansing.
Anyway, back to the point.
Another thing I've learned over the past few years is that we also shouldn't use the term "smudge." There are two main reasons for this. The first is that although the word "smudge" is English, it's been used as a term for the indigenous practices since the 19th century. Practices that the US government actively tried to wipe out. So, you can imagine how shitty it is to see a bunch of white influencers on IG burning sage, calling it "smudging," and (likely) making bank. The second is that what you're doing probably doesn't even quality as "smudging" from a native perspective.  As the indigenous folks in this article point out, there is a lot more to smudging than smoke fumigation.
Smoke cleansing and smoke fumigation are perfectly respectable terms for what most of us non-indigenous folks do.
3. Purpose and Mechanism
The final reason comes down to purpose, mechanism, and the spirits you work with.
As a practitioner of modern Heathen magic well-rooted in the older sources, smoke fumigation is about introducing something hale into a space to drive out the unhale. It's about making a space uninhabitable to beings that may cause sickness and/or harm to me and mine.
That is underlying purpose and mechanism of what I do when I fumigate with smoke. And that informs everything about my fumigation practice, from the herbs I work with, to the rituals I perform when preparing them. As a non-indigenous person, I frankly don't know enough about those elements of smudging. For all I know, the purpose and underlying mechanism of what I do compared to what they do is very different.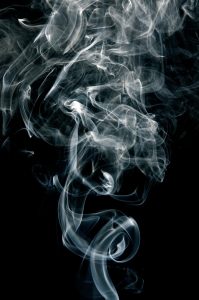 And the Spirits?
Another important element regards the spirits themselves.
Over the years, I've lived in a lot of places, and I've found several things to be true. Firstly, upkeep is always preferable to repair; secondly, it's the little things that make a home; and thirdly, my home is an ecosystem shared between both seen and unseen beings.
In my home, there's myself, my human family, my dog, cat, various ancestors, Aelfe, and cofgodas to take into consideration. Between us, we maintain relationships built over years and continued over continents. Again and again, we've moved and gone through the process of cleaning, unpacking, and (re) building our shrines in each place. Again and again, we've made offerings, invited our wights to join us, offered to the wights of the new place, and so on and so forth.
If there's one thing this kind of nomadic life does, it's build appreciation of those you travel and move with. As much as you might make friends in a place, your most important bonds are always to your more immediate kin group, be they living or dead, human or otherwise.
To put it simply: my kin group does not get on with white sage.
Moreover, I don't come from a culture that has relationships with white sage. I come from a culture that has a text referencing a group of 9 holy herbs making oaths at a great council to help. I come from a culture that looks to rowan and vervain (among others). And the herbs I have relationships with are very good at driving out the unhale spirits, while not disturbing the hale. (In other words, our purposes are aligned on this.)
So, which herbs are good to use for smoke cleansing? Well, I made a whole other blog post about that whole thing here.