The Rune Reading That Never Was
Around fifteen years ago I was sitting in a pub at a Pagan moot. It was the final moot I would attend before moving to Korea. I'd gone there to meet up with my co-host to discuss the moot we ran together (a different moot from the one I was at), and basically do the handover of my end of things. But at one point, a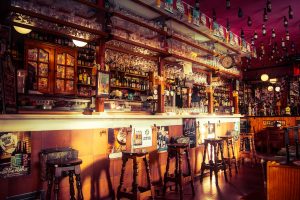 woman on another table called me over to her. She'd decided I needed to have a rune reading from her, and I, several pints into the evening, decided to go along with it.
So I pick up my pint and go over to this individual's table. Because that's another "funny" thing about this interaction – I didn't even know her. But she's getting out her runes, and soon those runes also include various crystals that she arranges around the table.
"These are amplifiers," she informs me, then pulls out some jewelry that she starts to don. Before long, she's wearing some kind of circlet and a bracelet. "Dampeners," she says, as though it's the most logical thing in the world.
I give her a puzzled look and ask "Why not just get rid of the amplifiers so you wouldn't need the dampeners?"
That earns me a look that leaves me in no doubt that she thinks I'm an idiot. I work hard to keep the growing look of amusement off my face and she continues to set up, now making all kinds of spurious claims about runic ancestral teachings as she does so. Her mother apparently was taught this at her grandmother's knee, and then there was non sequitur about illuminated manuscripts thrown in there too.
Unfortunately, I didn't get to see where this whole thing would go as my fellow moot organizer chose that moment to come find me for our meeting and I left shortly afterwards.
History vs Story
Despite having practiced runic divination for years with some startling results, I was full of skepticism for what this reader was bringing. I knew there was no historical evidence solidly linking the runes to divination and that claims of hereditary rune reading going back to the 12th century (or whenever she claimed) were bunk. But what I wasn't paying attention to (and what I have come to realize over the years), is that it's not the history that makes a practice useful, but our abilities to connect with and buy into the stories surrounding that practice.
And runes, with their long inclusion in fantasy and slew of occult writings, have plenty of stories to connect with and buy into as tools for magical and divinatory practice.
Now, I would probably see that reader in the pub with her amplifiers, dampeners, and spurious claims as a weaver of stories. Her stories just weren't any I could personally buy into.
Ruining the Runes I: Guido von List
But it would be wrong to consider modern rune magic and divination to have no historical precedent whatsoever. If anything, the early history of modern rune magic can serve as a cautionary tale that we should also be careful of the stories we tell – even with modern things/old things repurposed for modern use.
The unfortunate fact of the matter is that the vast majority of what we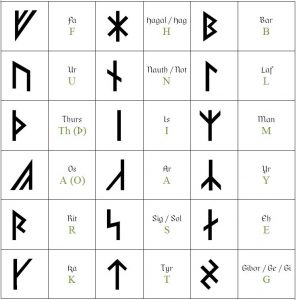 consider to be modern rune magic actually comes from early 20th century ethnonationalist (or völkisch) occultists who had originally been inspired by Theosophy. For them, as members of the "Aryan root race" (a concept they drew from Theosophy), it was from the purported wisdom of Germanic ancestors that they should draw instead of India. One of the first proponents of this racial mysticism was Guido von List who claimed to have tapped into ancestral memories of the Armanen, the alleged priesthood of the "Aryans" (Our Troth, vol. 1, Pp232 – 233).
Eventually, List put forth an 18 rune futhark known as the Armanen runes, to which he ascribed complex symbolism and that was contained within a Kabbalah-like system (that List would go on to falsely claim was originally of Germanic origin but preserved by Jewish Rabbis in Cologne). Despite this, List would never go on to develop a system of runic practice (outside of some lame rip off of the New Aeon English Qabalah gematria).
Ruining the Runes II: Marby and Kummer
List died in 1919, but unfortunately völkisch mysticism would stick around for a while yet. The next two people of note were followers of List: Friedrich Bernhard Marby and Siegfried Kummer. This is when we see the development of "Runic yoga" and the use of "runic mudras" as well as chanted runes as a form of "mantra". For Kummer, who developed these chants, runes were energy fields permeating the cosmos that could be tapped into. ( (Our Troth, vol. 1, Pp233-234)
Now there's a lot we could say about the whole "chanting runes as mantras" thing. Mantras are ancient (the earliest dating back to the Vedic period) and enough common elements have been found between different Indo-European cultures that comparativism is an established methodology. But the fact of the matter is that we simply can't make the argument the ancient Germans or Scandinavians had mantras or what they would have been. Some modern esotericists might make an argument for "ALU" based on personal gnosis, but again, that's not something we can prove.
As it happens though, this story did not end well for either Kummer or Marby. And ironically, it was their fellow racists that took them out. Because once the Nazi Party got into power, they were all about suppressing those weird pagan and occult groups. Marby was imprisoned from 1937 to 1945 and Kummer disappeared. And in 1941, the Gestapo was ordered to take out "secret doctrines and fringe societies" (Our Troth, vol. 1, p244-245).
Which makes you wonder why any modern Heathen would ever find sympathy with racist ideologies really. And despite racist Heathen talk about the primacy of "the folk" and "no more brother wars", comments from non-Heathen far right spaces reveal a desire to stamp out far right Heathens almost as much as anyone else. Patterns repeat, people! Mark this one well if you are "folkish", your fellow "brothers" will take you out if they ever gain power.
Ruining the Runes III: Edred Thorsson and the Modern Movement
But unlike Kummer, the ideas about runes developed by the völkisch mystics wouldn't disappear for long – at least not in the grand scheme of things. If the ideas surrounding runes and the practices surrounding them (such as chanting) sounded familiar to you when reading through the section on Marby and Kummer, you can largely thank Edred Thorsson for that. Because it's from Marby and Kummer that he largely drew his material (albeit adapted to the 24 rune futhark) (Our Troth, vol. 1, p 234).
The influence of Marby, Kummer, and to a lesser extent, List's work on modern rune magic is pervasive. Which is unsurprising given how prolific Thorsson is and how influential he has been over the years. The chances are that if you pick up a book on modern rune magic, Thorsson's influence is present.
Uncomfortable Histories and Bad Stories
There's no doubt that the origins story of modern rune magic is bad. Some of us might also feel that the practices initially developed by Marby, and Kummer were poisoned by the ideology of the same racist movement that would eventually turn on Marby and Kummer.
But the fact of the matter is that modern runic magic has been with us for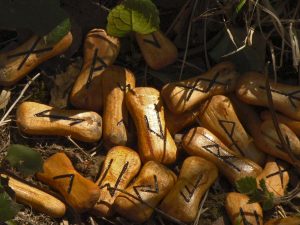 around forty-five years now, in a religious movement that's not really been around for a whole lot longer. In many ways, the origins story of modern rune magic parallels that of Heathenry itself in that many of the early founders of modern Heathenry were also folkish/völkisch. (Btw I really recommend you pick up Our Troth Vol. 1: Heathen History or check out the Heathen History Podcast and learn about the early history of the modern Heathen movement.)
Yet though there are some outside of Heathenry who feel that no one should be Heathen because of this history, the majority of us stick around. Why?
The same reason as always: We found something within Heathenry that made sense to us and made our souls sing (whatever a "soul" is). And as someone who has been a Heathen since roughly 1997, this is the first time I've seen anything approaching a coherent inclusive movement within Heathenry that is based in relationship and ideas of interconnectedness, and it is beautiful. More importantly, it has the potential for growth.
The far right may have had a heavy hand in its creation (especially in the Anglosphere), but it's our Heathenry now. It's what we do now that matters.
Stories for Runes
As mentioned above, I find it ironic that it was the poisonous part of Marby and Kummer's ideas that eventually came back to bite them. I also find it meaningful and a potential lesson. Because here's the thing about magic: It doesn't matter how new or old it is, if you are getting results and seeing change then you are interacting with "something bigger". And whatever that "something bigger" is, however you experience it within your paradigm, you will find out when you fuck up (and usually in a way that highlights the nature of your fuck up). So to me, the fate of Marby and Kummer suggests that their völkisch beliefs were the fuck up.
Now this is clearly only my personal gnosis. And just to be clear, the magical slap downs I'm referring to here tend to come from angered deities/spirits and/or broken oaths vs the threefold law or the pervasive (and inaccurate) Western idea of Karma.
So where do we go from here with modern rune magic (for those of us who do find value in it)?
Inclusive Runes for Inclusive Heathens
The first thing is to be aware of the origins story of modern rune magic. We cannot erase that story, but we can damn well decide where we take it from here.
And there are people out there who are creating new/old stories for the runes,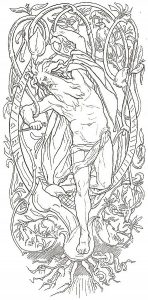 stories that reflect their own ideas of interconnectedness and connection and who connect those ideas and their practice with mythological elements. Such as the story of a hanged god who gave all beings breath snatching up the runes from Hel. Or the Nornir who carve the ørlög of every person on slips despite having no way of knowing whether the Nornir do actually carve in runes. They'll take inspiration from Hávamál, Sigdrífumál, and Egil's saga for their magic. Chant "ALU" from the bracteates and derive their meanings for divination from the rune poems.
These aren't historically accurate stories, but that doesn't really matter. Because they're good stories, and more importantly, they're stories they can buy into.
Just don't try to pass them off as something they're not. Be clear that your practice is modern. Embrace that.
In the next post, I'm going to talk about my modern rune magic practice and how I see what I do when I am working with the runes in this way. I'm also going to talk about the ways in which I use it, and especially how useful it's been for my daughter.
Be well everyone.